Container Gardening with Medicinal and Culinary Herbs

Whether you have an outdoor garden or a patio garden grown in containers, growing herbs in pots is an accessible and convenient way to grow your own medicinal and culinary plants.
Most herbs are very happy grown in pots but we want to make sure that we're aware of their water and light needs & requirements to help them really flourish. Taken into consideration, if you'll be growing more than one type of herb in a container, you'll want to make sure that they have similar needs.
Here are some of our favorite Herb Container Companions:
Rosemary, Sage, and Thyme all have similar requirements and complement one another quite well. They're all woodier, and like it hot!
Basil, Shisho & Parsley have similar requirements and add lushy green texture and vibrancy to container gardening.
Chamomile does well in containers and there's several different varieties that you can put together!
Yarrow, like Chamomile, does well in containers and also works with several different varieties that you can grow together for a medicinal and beautiful arrangement.
Mints & Chives tend to "take over" in a container and we don't recommend that they share a container with other varieties of herbs.
Another idea is to add herbs to a flowering container as they add texture & scent, welcome in pollinators, and you can harvest them at the end of the season!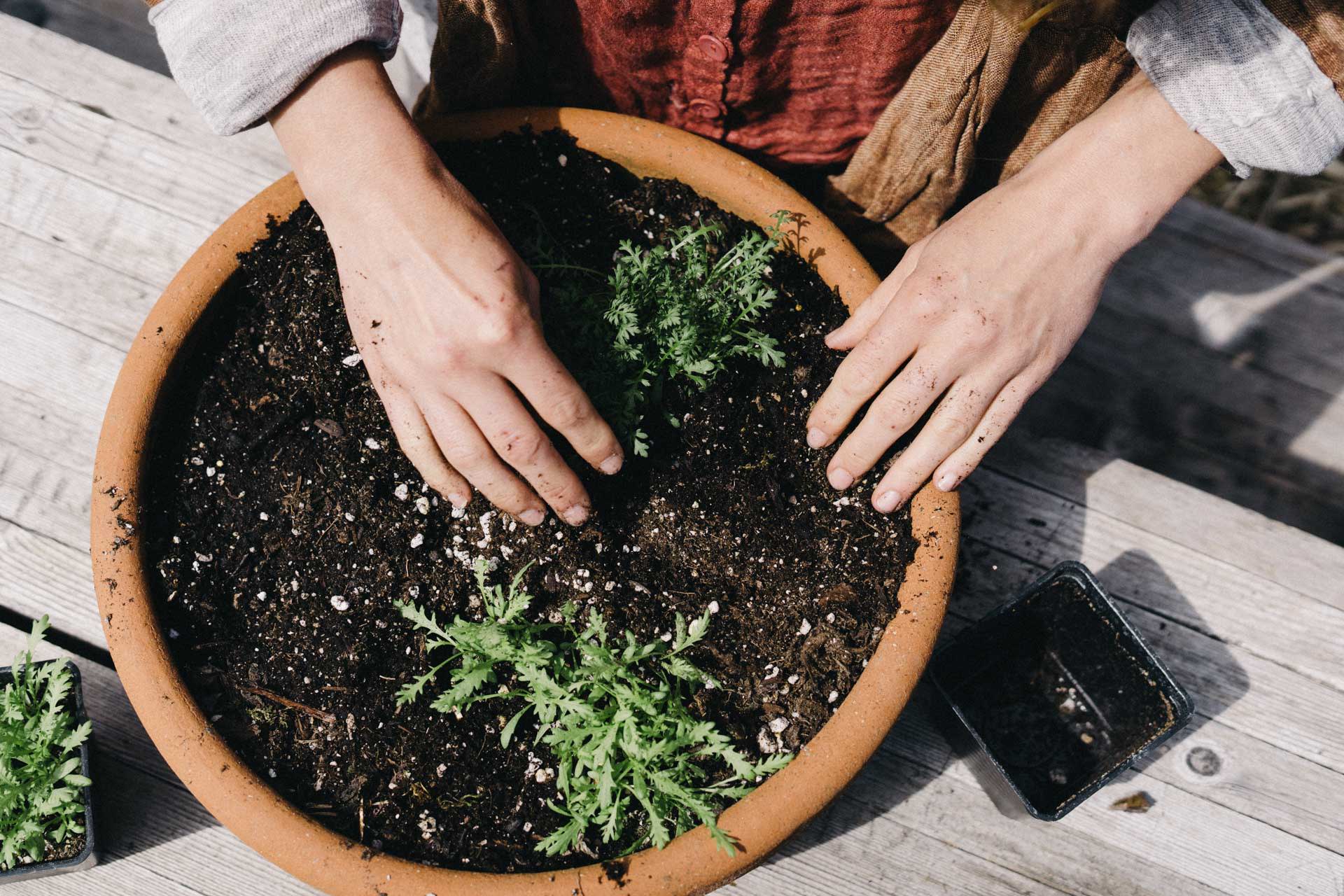 Type of container:
Herbs typically prefer drainage so we like to use a pot that's shallow with drainage holes. Because of the shallow pot, it may mean that you'll have to water more frequently, but most herbs don't have large tap roots and root systems, so smaller containers make the most sense. If you do a larger pot, again just pay attention to the requirements of your herbs as some do prefer to dry out in between waterings so you'll need to do a soil moisture check before watering.
Care for herbs varies. Here are some of the more common varieties and specialized ones that we carry:
Basil:
Light: Light requirements are full sun, at least 6 hours/day.
Water: Basil likes to be watered daily if in full sun, but make sure the soil has good drainage so it doesn't stand in water.
Bee Balm:
Light: Prefers full sun, at least 6 hours per day.
Water: Bee Balm requires initial daily watering when planted, but once established can go with watering every other day or so.
Chamomile:
Light: Chamomile grows best in cooler conditions and should be planted in part shade if you live somewhere very hot. In cooler climates, it can be in full sun.
Water: Water when planted, then pull back once established. It likes to dry out in between waterings.
Lemon Balm:
Light: Lemon balm plants will grow in part shade to full sun, but flourish in full sun.
Water: Water plants deep enough to saturate the roots, and then allow the top of the soil to dry before watering again. Avoid soggy soil. Lemon balm in containers may require water every day, especially during hot, dry weather.
Chives:
Light: Chives thrive in full sun, but they will grow almost anywhere.
Water: Chivest prefer their soil moist, with the top drying in between waterings.
Mint:
Light: Full sun but will tolerate some partial shade.
Water: Moist, but well-draining
Mugwort:
Light: Bight, full sun to partial sun.
Water: Water until well established. Mugwort tends to have a somewhat deeper root system so may need a deeper pot.
Oregano:
Light: Oregano performs well in part to full sun, but the flavors intensify when it receives a full day of sunshine.
Water: Oregano needs to dry out in between watering.
Garden Sage:
Light: Full to partial sun
Water: Sage is a fairly drought-tolerant herb, and even when the leaves look wilted, a little water perks the entire plant right up.
Shisho:
Light: Shiso does best in full sun to partial shade, in fertile, well-drained soil
Water: Does best with regular, daily watering, allowing the top couple inches of soil to dry in between waterings.
Spilanthes, Toothache Plant, or Bulls Eye Plant:
Light: Full to partial sun.
Water: Keep moist
Thyme:
Light: Most varieties of thyme are drought-resistant, so only give a thorough watering, when the soil is completely dry
Water: Let dry in between waterings.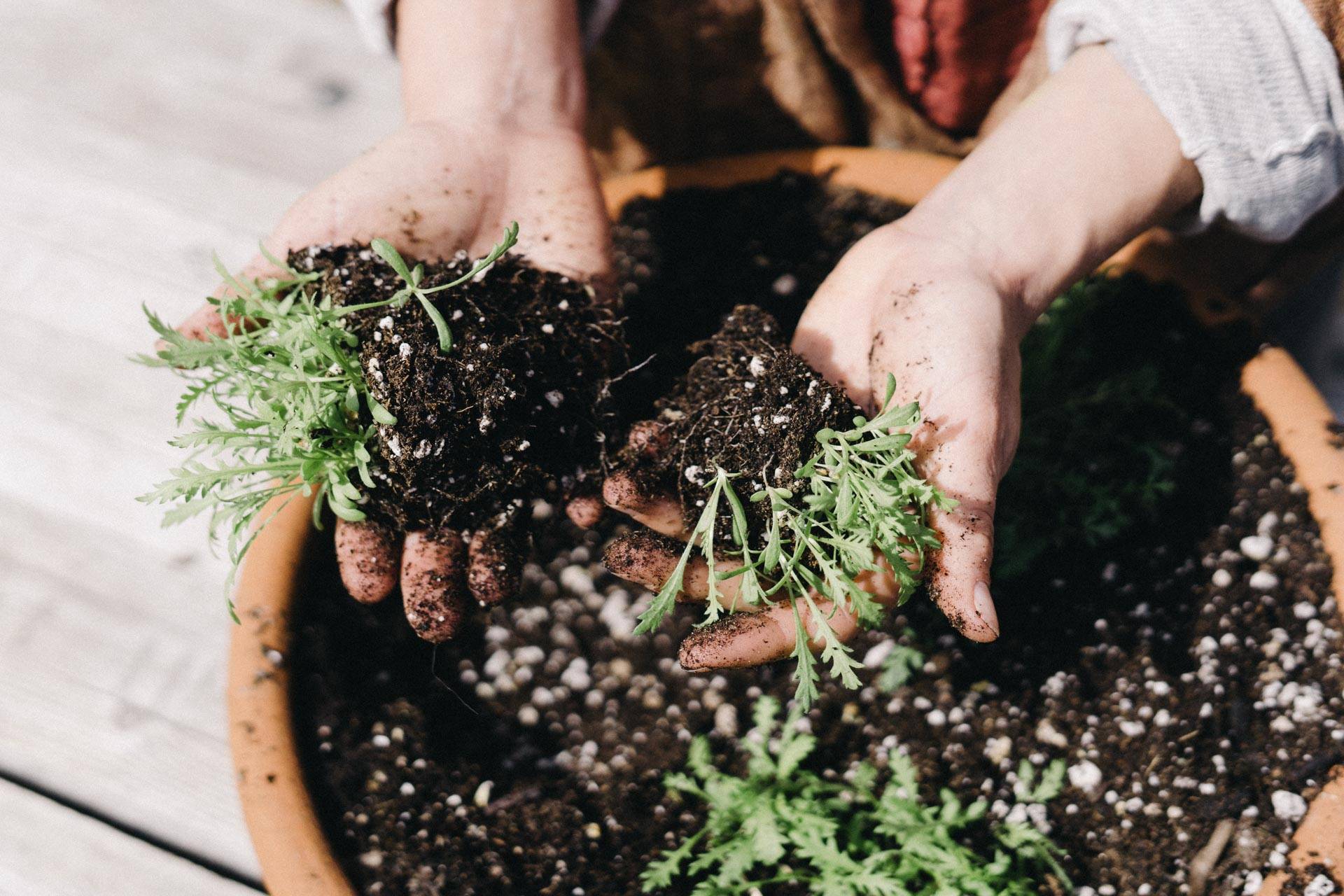 Growing & Harvesting Herbs:
The general rule of thumb for harvesting herbs is that the more you harvest, the more your plant will grow and give. Also, most herbs benefit from being "pinched-back" meaning you want to pinch them back when they're young to make them bushier, more productive, and well-formed. That said, always do your research and tailor your harvesting to the specific plant. At the end of the season, if you have leftovers, you could harvest a bundle and hang to dry for a later use or if you have indoor sun, harvest some and then bring your plant indoors. Some plants just don't overwinter well, but some are fine with it! Bringing your plants into your garage can at least help with some overwintering so you'll have more of a chance of getting your perennial herbs to return next year!
If you have any questions about container gardening, please be sure to leave them in the comments!